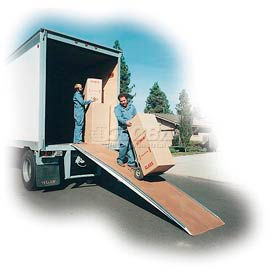 Fiberglass Truck & Van Walk Ramps
Heavy Duty Fiberglass Ramps are great for Loading and Unloading Trucks.

Loading and unloading shipments to and from Delivery Trucks and Semi-trailers is safe and easy using these lightweight Walk Ramps. Great for businesses t don't have a Loading Dock, Walk Ramps help "bridge" the Truck to the ground. Reinforced fiberglass, marine-grade plywood and aluminum extrusion construction provide a durable, Portable Loading Ramp. Abrasive Ramp surface provides good traction in all weather conditions. A 1"H Curb on both sides of the Ramp helps to prevent runoffs.

Note: Not for use with Forklift Trucks or Pallet Trucks.