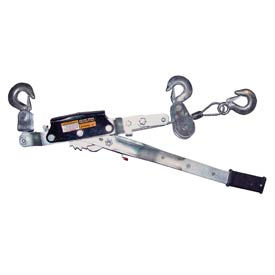 "Come Along" Two-Speed Cable Puller
Galvanized Steel Cable Puller is designed for use in Horizontal Pulling Applications.

The "Come Along" Two-Speed Cable Puller is used for positioning equipment, stringing lines and pulling joints together during construction. Cable Puller can be used in single and double-line pulling applications. 30"L ratcheting handle with a comfort grip provides easy cable take-up. Cable Puller allows free-wheeling use when the handle is fully rotated back. Single-line ¼" diameter cable length is 120". Minimum headroom is 24".

Note: Not for use in vertical lifting applications.