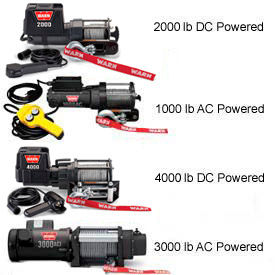 Warn® Winches - AC & DC Powered
Warn® AC & DC Powered Winches are used for Contractors, Moving Building Materials and other Jobsite Material Handling.

Warn® AC & DC Powered Winches are constructed with high quality materials for long lasting durability. Winch types are 1000AC AC Powered, 2000 DC Powered, 3000 ACI AC Powered and 4000 DC Powered. Winches move loads on trailers and pickups. Best suited for portable set-ups and fixed mount pulling situations using the optional Anchor Plate. Optional Rigging Kit is available with a Snatch Block, Shackles and an Anchor Strap to assist in angled pulls. Available Pulling Capacities range between 1000 and 4000 lbs. Wire Rope types vary per style and Voltages are 120V AC or 12V DC.