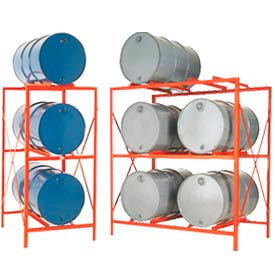 Global Approved Drum Storage Racks
MECO Steel Drum Storage Racks provide Orderly Handling and Storage for 30 & 55 Gallon Drums.

MECO Drum Racks are made of heavy duty angle steel with cross bracing for added strength. Storage Racks allow easy forklift entry on front and rear for storage and removal of Drums. Drum storage can be flexible by placing Racks back-to-back for your convenience. Easy assembly.