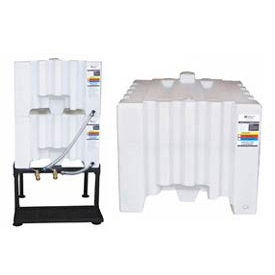 Hastings Stackable Storage Tanks
Hastings Stackable Storage Tanks Store Lubricants and Liquids.

Hastings Stackable Storage Tanks are durable molded poly tanks that feature easy-to-read gallon indicators and two 2" threaded openings with caps and plugs. Plastic Tanks have a 1" threaded opening that provides easy liquid draining. These Plastic Tanks allow forklift access for easy transporting, and stack securely to provide neat, clean liquid storage.

Optional Tank Stand is constructed of heavy gauge steel finished with a chemical resistant coating.

Optional Drip Pan attaches to the Tank Stand to catch spills to help promote a cleaner work environment.