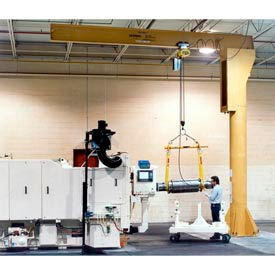 Gorbel® Free Standing Jib Cranes 500 lb. to 1000 lb. Capacity
Gorbel® Heavy Duty Free Standing Jib Cranes Are Designed For High Production Industrial Hoisting Applications.

Gorbel® Heavy Duty Free Standing Jib Cranes can be positioned underneath large bridge cranes, in open areas to serve several work stations and at outdoor loading docks. Boxed style head assembly allows for installation of head prior to boom, reducing required clearances and allowing maximum lift. Durable precision tapered roller bearings provide smooth operation for long lasting reliability. Full supporting triangular baseplate gussets minimizes deflection. Includes bolted movable trolley stops to limit movement. Available load capacities are 500 and 1000 lbs. Boom lengths range from 8 to 20 feet. I-beam heights range from 6 to 16 inches. Other dimensions vary per model.