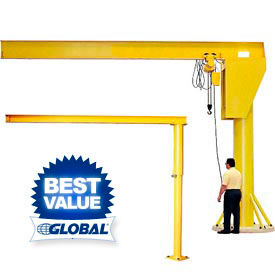 Abell-Howe® Floor Mounted Jib Cranes
Abell-Howe® Floor Mounted Jib Cranes Are Designed For Heavy Duty Material Handling In Manufacturing, Assembly Plants, and Other Industrial Applications.

Abell-Howe® Floor Mounted Jib Cranes lift and carry heavy loads along the I-beam pathway. Heavy wall structural steel pipe mast and a reinforced large diameter base plate for minimal deflection and continuous alignment. Durable and long lasting overhead floor cranes feature a rolled steel I-beam section with tapered flange for smooth trolley travel. Safety end stops at both ends of boom limit trolley travel. Light Duty Cranes are used for hand chain or light duty electric hoists. Floor cranes bolt to concrete foundations. Anchor bolts and templates not included; call for information. Available capacities are 500, 1000, 2000, 4000, and 6000 lbs. Boom lengths are 6, 8, 10, 12, 14, 16, and 20 feet. Color finish is High Visibility Yellow Enamel. Dimensions vary per model.

**Capacity Includes Weight Of Hoist.