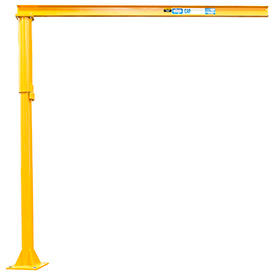 Contrx Freestanding Jib Cranes
Contrx Freestanding Jib Cranes Are Designed For Heavy Industrial Applications.

Contrx Freestanding Jib Cranes are fabricated with high grade steel for lasting durability. Boom is constructed from steel I-beam and includes a removable end stop for safety. Support column of heavy steel pipe is welded to a thick base plate with reinforcing gussets for dependable service. 360-degree boom rotation simplifies operations to protect workers from injury. Crane capacities range from 500 lbs. to 6000 lbs., with boom lengths from 6' to 20'. Available with Standard/Tapered-Flange or Wide-Flange I-beams with flange widths of 3" to 9". Color finish is Safety Yellow Enamel. Additional specifications vary per model.