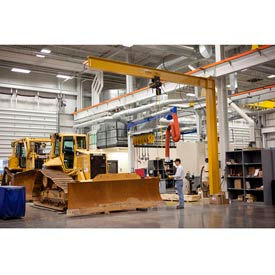 Gorbel® Mast Type Jib Cranes - Full Cantilever 4000 lb. to 10,000 lb. Capacity
Gorbel™ Heavy-Duty Mast-Type Jib Cranes With Full Cantilever Are Used For Hoisting Applications Requiring A 20-Foot Span And 360° Rotation.

Gorbel™ Heavy-Duty Mast-Type Jib Cranes with Full Cantilever are forged from steel to provide long-lasting durability. Available in 4,000 to 10,000 pound capacities. Cranes are floor supported and top stabilized. No foundation is required. Top and bottom bearing assembly allows for 360° rotation. The mast-beam connection eliminates the need for tie rods and knee braces. Comes pre-engineered for use with powered hoists. Heights range from 8 to 20 feet. Available I-beam heights are 10, 12, 16, 19, 21 and 24 inches. Available mast diameters are 14, 16, 18, 21, 24 and 27 inches. Overall dimensions vary by model.