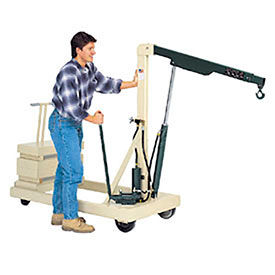 Beech® Reversed Boom Floor Cranes
These cranes feature a reversed boom design that eliminates front leg interference, allowing them to get into, under and over obstacles in tight spaces.

Portable cranes provide safe, easy lifting in production areas and warehouses with simple hand operated hydraulic lift and an integral overload relief valve. The needle valve regulates lowering speed. These lift cranes also include an alloy steel safety swivel hook and counterweight. Mobile cranes are highly maneuverable with a rear mounted tow handle and roller bearing phenolic wheels. Factory tested to 150% of capacity and exceeds ASME PALD-12 and ANSI Z-535 standards. 2 Year Limited Warranty.

Optional Power Lift (for 1000 & 2000 lb. capacity models only) is available to control lifting operation and includes 12V deep cycle battery, automatic charger and pendant control with 20' cord.

**Boom Height range is less when Boom is Retracted.