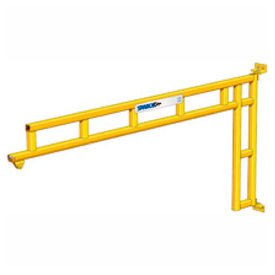 Spanco 501 Series Wall Mount Jib Cranes
Spanco 501 Series Wall Mount Jib Cranes Provide Convenient Material Transport For Applications Including Construction, Engineering, Maintenance And More.

Spanco 501 series wall mount jib cranes are made of steel for long lasting durability and dependability. Crane requires no floor space or foundation minimizing footprint while maximizing work space clearance. Cantilever design transmits less direct force to building column than tie-rod supported jibs for safety and stability. Low profile truss design minimizes headroom requirements and rolling trolley increases transport efficiency. V-shape track design prevents dust and debris from accumulating on rolling surface for maintenance ease. Includes indoor service paint finish with optional outdoor, food grade and seaside service paint finishes available. Weight capacities range from 100 to 1000 lbs. Dimensions vary per model.