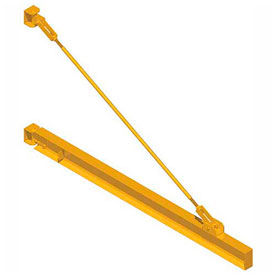 Caldwell Wall Mount Tension Braced Jib Cranes
Caldwell D180-1-20, Wall Mount Tension Braced Jib, 1 Ton Capacity, 20' Span

This inexpensive jib crane provides a fast and easy to install solution to a localized material handling problem. Easy to install fittings simply bolt to the column and beam. This "friction free" 180 degree rotating crane can also be pushed out of the way when not in use. Fittings are heavy duty steel weldments, jig welded to insure proper bearing alignment. Axles are grade 8 bolts with lock washer and nuts. Lubricated bronze shoulder bushings are used. Fitting is bolted to the top flange of beam, which allows for single location "leveling down" of the beam if an adjustment is required. American Standard Wide Flange beams, selected to properly handle all imposed forces and loads. End Stops provide a positive hoist / trolley stop allowing for the maximum in trolley travel.