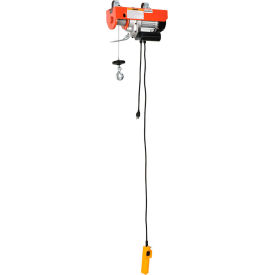 Mini-Electric Cable Hoists
Mini-Electric Cable Hoists are used for Light Duty in Shops, at Jobsites, and more.

Mini-Electric Cable Hoists are lightweight and economically priced electric hoists. Portable powered cable hoists can be easily configured into both single-line and double-line lifting applications. Hoist features a high-torque 115V AC electric motor with a 5' power cord, and a pushbutton remote control with a 5' cord. Intermittent use only. Includes hardware to attach the hoist to 1-5/8" round pipe or square tubing. Optional Swivel Hook Plate allows the hoist to be attached to a trolley (sold separately). Weight capacities are 200 lbs. and 800 lbs. Lift height is 36'. Lift speed FPM is 30.