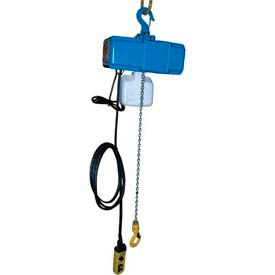 Variable Speed Electric Chain Hoists
Hoists offer Exceptional Value for Industrial Lifting applications.

Variable speed hoists make it easier and faster to lift products, saving maintenance, repair and downtime costs over their lifetime. High-torque ½ HP motor includes an auto-brake mechanism that stops and holds the load, even with loss of power. Push button hand control features user friendly up/down fingertip controls and an infinitely adjustable variable speed knob. Rigid top and swivel lifting hooks have safety latches. Includes chain container.