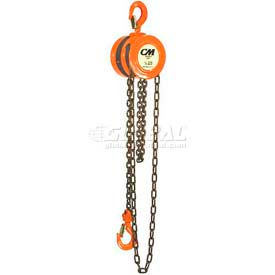 CM® Columbus McKinnon Hand Chain Hoists
CM® Columbus McKinnon Hand Chain Hoists Provide Secure, Efficient Leverage In Confined Spaces.

CM® Columbus McKinnon hand chain hoists lift and support heavy loads in need of safe transportation. Some models feature a weston-type load brake that requires no lubrication. Hand wheel cover with guide slots minimizes jamming and slipping. Forged swivel hooks with latches reduce twisting of chain and unintentional unhooking of load when chain is slack. Lightweight steel construction offers easy installation and lasting durability. Lift capacity in pounds are 1,000, 2,000, 4,000, 6,000, 10,000, 30,000 and 40,000 lbs. Lift heights are 10, 15, 20 and 30 feet. Select models are metric rated. Dimensions and additional specifications vary per model.