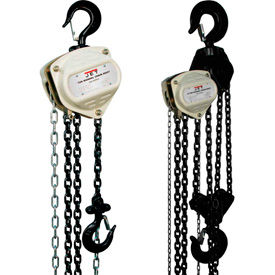 JET® S90 Series Manual Chain Hoists
JET® S90 Series Manual Chain Hoists Are Sturdily Designed For Light Duty Material Handling In Factories, Warehouses And Other Industries.

JET® S90 Series Manual Chain Hoists are designed with reliability and durability to perform in light-duty industrial applications. Heat treated, case hardened and corrosive resistant coated internal parts provide long lasting life in the harshest of environments. Weston style dual pawl brake design increases safety by splitting the load to opposite sides of the ratchet gear for greater load security when hoisting. Features all-steel impact resistant construction and Grade 80 load chain. Industrial rated alloy steel hooks rotate 360° for easy rigging and slowly stretch to indicate an overload situation to increase jobsite safety. Available load capacities are 1100, 2200, 3300, 4400, 6600, 11,000, and 22,000 lbs. Lift heights are 10, 15, 20, and 30 feet. Head room and dimensions vary per model.