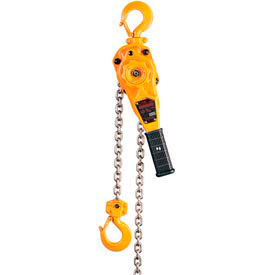 Harrington LB Lever Hoists
Harrington LB Lever Hoists Are Rated The #1 Selling Lever Hoist In The United States

Used for heavy duty construction work, mining, manufacturing, shipbuilding and day-to-day maintenance and repair. Compact design for use in tight quarters. Steel body is more durable yet lighter weight than die-cast aluminum models. Revolutionary spring-loaded freewheel mechanism for one-handed operation. Positive braking action with Weston-style load brake and 2 moisture resistant brake pads with 4 braking surfaces. Includes 2 brake pawls for reliable operation. 360° handle rotation and pivot and swivel top hook for easy rigging. Corrosion resistant, Grade 100 heat-treated load chain. Totally enclosed brake mechanism is protected against dirt and moisture. Rubber grip for non-slip operation. Can be used horizontally, vertically, inverted or at any other load angle.