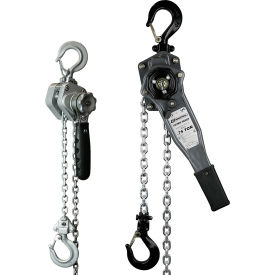 OZ Lifting Heavy Duty Lever Hoist
OZ Lifting Heavy Duty Lever Hoists Are Designed For Material Handling In Commercial Building Sites, Construction Workplaces, Warehouses And Factories.

OZ Lifting Heavy Duty Lever Hoists are made from lightweight yet robust all steel materials that allow the hoist to be easily mounted for long lasting use. Hoists feature a selector switch to raise and lower a load or put the hoist lever in neutral for quick rigging jobs. Durable rigging systems feature alloy hooks made of forged steel with bolt and lock nut connection, a stainless steel ID tag with load rating information, a shroud that acts as a chain guide, and a tag that keeps the chain clean. An end-stop acts as a means to pull the chain and as a lock to prevent unchaining the hoist. vailable load capacities are 500, 1500, 3000, 6000, 12,000, and 18,000 lbs. Chain lifts are 5, 10, 15, and 20 feet and 1 or 2 chain falls. Includes 1 year limited warranty. Hook opening size and headroom clearance varies per model.