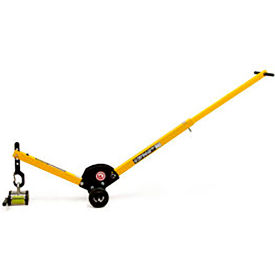 Manhole Cover Lift Magnets
Manhole Cover Lift Magnets Provide Safe Coordination For Manhole Cover Removal.

Manhole cover lift magnets attach and move manhole covers with magnetic force from a distance to reduce workplace or worker injuries. Adjustable dolly with four position hook and a four-length retractable handle provides superior leverage, even in tight spots. Multiple angling positions allow adjustment of system for any lifting situation. Dollies fold up for convenient storage. Handle locks in on or off position. Lift wheels provide mobility transport from one worksite location to another. Maximum capacity limit is 400 lbs. Additional specifications vary per model.