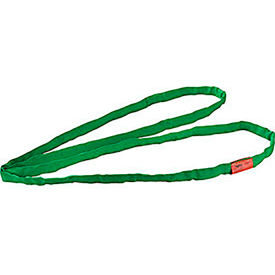 Endless Web Slings Round - Polyester
Endless Web Sling Round Provides an Ergonomic Lifting Solution for Fragile or Delicate Loads in Warehouses, Shipping Facilities, Material Handling Areas, and more.

These slings are designed to assist personnel in heavy item lifting without the risk of marring or damaging the load. The polyester construction is both strong and durable for years of reliable service in harsh working conditions. The double wall cover improves wear strength and durability for extended sling life. Features a lightweight, flexible design for easy handling. Slings are color coded to indicate weight capacity. Basket hitch capacities range from 5200 to 62,000 lbs. Choker hitch capacities range from 2100 to 24,800 lbs. Vertical lift capacities range from 2600 to 31,000 lbs. Dimensions vary per model.