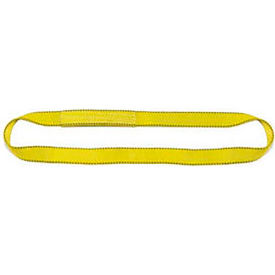 Endless Web Slings Flat - Polyester
Endless Web Slings Flat Support Heavy Duty Material Lifting and Handling for Multiple Applications Including Industrial, Storage, Shipping, and more.

These slings are designed to provide a convenient lifting solution without the risk of marring or damaging loads. The polyester and nylon construction is both strong and durable making it ideal for chemical or high temperature environments. The superior structural design is cut and abrasion resistant for extended sling life. Most models feature tags that display easy to read capacity information for safety. Basket hitch capacities range from 4800 to 41,400 lbs. Choker hitch capacities range from 2500 to 16,500 lbs. Vertical lift capacities range from 2400 to 20,700 lbs. Dimensions vary per model.