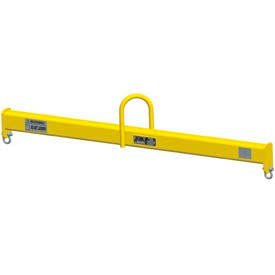 M & W Fixed Length Lifting Beams
M&W Fixed Length Lifting Beams Ensure Safe, Flexible Lifting And Connections For Jobsite Material Hoisting Applications.

Fixed Length Lifting Beams are constructed of heavy duty steel for long lasting durability and dependability. Beams are designed for use in construction and industrial applications with overhead, gantry or jib cranes to provide quick and easy adjustment of unbalanced loads. Ideally suited to low headroom applications. Equipped with RFID tracking chip and manufactured to exceed all ASME B30.20 and OSHA regulations. Available load capacities are 500, 1000, 2000, 4000 and 6000 lbs. Spread distances are 36, 48, 72, 96 and 120 inches. Head room clearances are 10.25 to 17.77 inches. Dimensions vary per model.