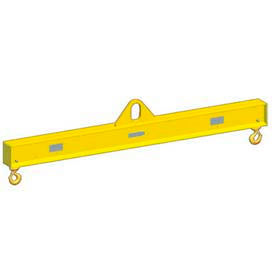 M & W Low Headroom, Multiple Length Lifting Beams
M & W Low Headroom Multiple Length Lift Beams Provide Secure, Flexible Lifting For 1,000 To 40,000 Lb. Load Applications.
M & W Low Headroom Multiple Length Lift Beams are constructed of heavy duty steel for long lasting durability and dependability. Attach to a wide range of loads for use with overhead, gantry or jib cranes. Use as a crosspiece for spacing the hooks or chains that hold bars, racks, rolls, cylinders and other machinery. Adds stability for lifting critical loads. Offer flexibility of multiple spread lifting points for increased flexibility. Swivel latch hooks are standard for rigging connections. Multiple latch hooks, eye latch hooks and shackle plates available. Wide selection of
1000, 2000, 4000, 6000, 10,000, 15,000, 20,000, 30,000 and 40,000 lb.
load capacity units with multiple spreads from
24 to 288 inches
and
13.11 to 43.92 inch
head room. Equipped with RFID tracking chip and manufactured to exceed all ASME B30.20 and OSHA regulations.
Click here for illustrated drawing.