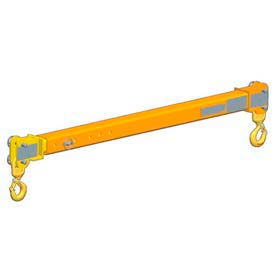 M & W Adjustable Spread Telescoping Beams
M&W Adjustable Spread Telescoping Beams Are Used For Use In Construction And Industrial Applications With Overhead, Gantry Or Jib Cranes To Attach To A Wide Range Of Loads.
M&W Adjustable Spread Telescoping Beams are made of solid steel for long lasting durability and dependability. Acts as crosspiece for spacing hooks or chains holding loads such as bars, racks, rolls, cylinders and machinery. Provides added-stability lifting of critical loads in applications with ample headroom. Minimum horizontal top rigging angle of 45 degrees. 60 degrees recommended. Includes swivel latch hooks. Manufactured to exceed ASME B30.20 and OSHA regulations. Shipped with certification paperwork. RFID tracking chip equipped. Capacities are
4,000 lbs, 10,000 lbs, 20,000 lbs, 30,000 lbs and 40,000 lbs
. Spreads are
48 to 72, 72 to 120, 96 to 168 and 144 to 240
.
Available for a variety of head room dimensions
.
Click here for illustrated drawing.