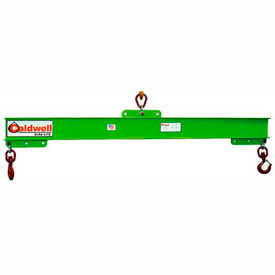 Caldwell Spreader Beams
Caldwell Spreader Beams Are Used For Applications Including Construction, Industrial, Manufacturing, And More.

Caldwell spreader beams are made of steel for long lasting durability and dependability. Beams provide an adjustable top lifting point and lower spreads for handling non-symmetrical loads or where center of gravity is not centrally located between pick points. Units are engineered to withstand rugged environments while providing ergonomic handling and transport. Single beam units accommodate wide load ranges. Lightweight composite materials are bonded to form ultra-strong lifters. Non-conductive, corrosion resistant, and proof tested. Types are Adjustable Spreader/Lifting Beam, Lifting Beam, and Spreader Beam. Weight capacities range from 500 to 6000 lbs. Color finish is Green. ASME certified. Dimensions vary per model.