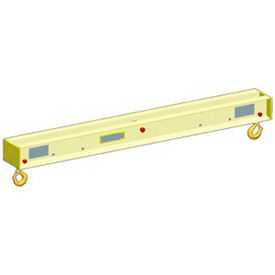 M & W Ultra Low Headroom Lift Beams
M&W Ultra Low Headroom Lift Beams Are Designed For Jobsite And Warehouse Material Hoisting That Has Restricted Use Of Overhead Rigging.
Ultra Low Headroom Lift Beams are manufactured to exceed all ASME B30.20 and OSHA regulations for long lasting durability. All lifting beams proof loaded per OSHA requirements and shipped with certification paperwork. Provided spacers assure hook remains centered. Beams include alloy swivel latch hook connections. Available load capacities are
1000, 2000, 4000, 6000, and 10,000 lbs.
Head room clearances range from
7.44 to 14.05 inches.
Spread distances are
48, 72, 96, 120, and 144 inches.
Color finish is
Safety Yellow.
Dimensions vary per model.
Click here for illustrated drawing