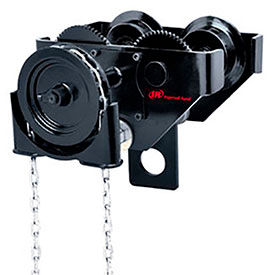 Ingersoll Rand Beam Trolleys
Ingersoll Rand Beam Trolleys Help provide Positive Load Positioning Along the Beam.

Ingersoll Rand Beam Trolleys are hand geared hook-on style trolleys rated for manual or powered hoists having the versatility to fit most types of beams with compatibility to all hoist brands. The 5:1 design factor allows use with both manual or powered hoists. Side plates are made of cold formed steel for strength and even load distribution. The wheel axles are 'rivet-locked' in place so they will not come loose. Wheels are cast iron. Wheels run on sealed, 'Lube-for-Life' ball bearings for smoother rolling with less effort and maintenance. 'Universal' tread fits either flat or tapered beams. Wide hanger shaft assemblies allow the standard trolley's to fit almost any I-Beam, H-Beam or patented track beam. Extension shaft kits are stocked. Capacities range from 1100 lbs. to 44,000 lbs. Beam widths up to 8 to 13. Head room is up to 11-3/16". Meets pertinent U.S. (ASME/ANSI and CMAA), Canadian and European standards.