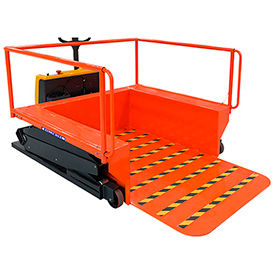 Ballymore Powered Drive & Scissor Lift Platform Portable Loading Dock
Powered Drive & Lift Portable Loading Dock is great for Loading and Unloading Large Merchandise onto Large Trucks, Docks and Pick-ups.

Make any loading job safe and easy to complete with the Powered Portable Loading Dock. This heavy duty Electric Drive Scissor Lift Table Platform is a driveable dock that is ideal for loading or unloading heavy objects at dock levels or pickup truck bed heights with a capacity of 1500 lbs.