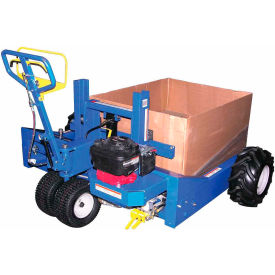 Gas Powered All Terrain Pallet Jack Trucks
Gas Powered All Terrain Pallet Jack Trucks Are Suitable For Use At Construction Sites, Lumber Yards, Nurseries, and Other Largescale Landscapes.

Gas powered all terrain pallet jack trucks provide transportation of huge loads over rough and uneven surfaces. Each model features a safety handle, which includes forward/reverse speed control and dead-man safety switch, while independent foot levers control powered fork lift/lower. Hydrostatic transmission offers controlled motion and hand operated Forward/Neutral/Reverse selection. 190cc gas engine provides strong powered traction drive and fork lift. Wheel bearings are sealed for extended durability. Strong welded steel frame. Available capacity loads up to 4,000 lbs. Forks are 36" or 48" in length and adjust from 8" to 36" wide.