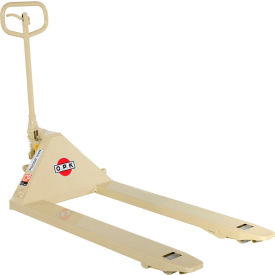 Cold Room Pallet Jack Truck
Cold Room Pallet Jack Trucks Endure Extreme Cold Spaces such as Freezers and Other Similar Storage Spaces

Cold Room Pallet Jack Trucks are designed to take on the harsh temperatures and effects of consistently cold settings, while providing reliable support for material transport processes. Universally simple manual hydraulic pump design. Nylon wheels maintain traction while traversing from getting marks and scuffs during movement. Powder coat finish for durability and defensible strength against the strain of heavy loads. Maximum capacity and additional specifications vary per model.