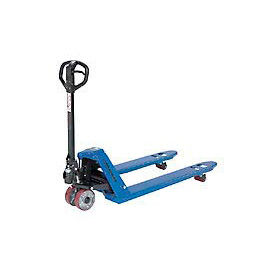 Quick Lift Pallet Jack Truck
This Quick Lift Pallet Jack Truck is the Fastest, Most Productive Pallet Truck on the Market.

Quick Lift Pallet Jack Truck and skids are ready to be moved within two strokes. This Pallet Jack is highly efficient and achieves maximum lift height in half the time of conventional units. The pump automatically switches to normal operation when load exceeds 250 lbs. European designed fully sealed Exclusive Endura Pump has an integral overload protection valve. The slip-resistant offset handle offers comfort and safety. This hand operated Pallet Truck has welded, high strength "C" section forks for extra rigidity and a unique adjustable push rod for proper fork alignment. Nylon entry rollers ease pallet entry/exit. Durable powder coat finish. 5 Year Limited Warranty.