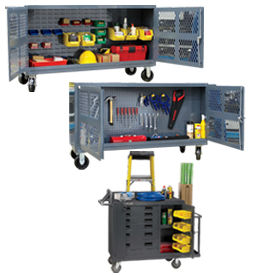 Steel Facility Maintenance Carts
Durham Facility Maintenance Carts can Organize, Store, Secure, and Transport Equipment and Supplies.

Durham Facility Maintenance Carts provide the option for three or four wire sides. Four sided truck includes drop gate for easier access to contents. Wire panels provide visibility and increased air flow. 23"H panels are constructed of 2-1/2"square, 1/4" diameter wire mesh. Styles include Mobile Facility Maintenance Cart, Both Sides Louvered Cart, or 1-Side Louvered/1-Side Pegboard. Mar-resistant powder coated finish. Rolls on two rigid and 2 swivel casters. Polyurethane and black mold-on swivel casters include total lock breaks. Made in USA. Two sided models offer panel or pegboard designs while the maintenance cart offers a locking hinge design and comes with bins! Both styles have:2-rigid and 2-swivel casters. Colo Gray. 4 or 16 Gauge Steel. Weight capacities are 1200 lb or 2000 lbs. Polyurethane or phenolic casters, Other dimensions vary per model.