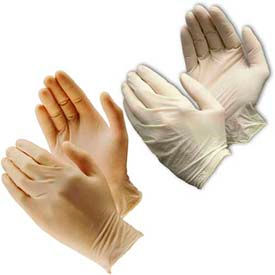 Industrial Grade, Powder-Free - Latex Gloves
Industrial Grade, Powder-Free, Latex Disposable Gloves Provide Maximum Dexterity For Heavy use.

Industrial Grade, powder-free - latex gloves are powder-free and textured for excellent grip. Gloves stretch easily for snug sensitive fit and maximum dexterity. Thicknesses are 4, 5, 7, and 8 mil. Available in micro-roughened textured, smooth, or textured finish. Colors are natural and white. Sizes range from XS to XL. Sold in package quantities of 100 or 1000.