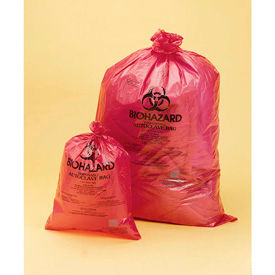 Biohazard Waste Disposal Bags
Biohazard Waste Disposal Bags Provide Safe Waste Disposal For Hospitals, Laboratories, Nursing Homes, Health Clinics And More.

Biohazard waste disposal bags are made of propylene for long lasting durability. Allows stable and economical disposal of petri dishes, syringes, band aids, pathological waste and more. Sterilization patch darkens when subjected to steam sterilization. Non-printed bags can be used as conventional trash can liners. Meets ASTM 1709 Dart Impact and ASTM 1922 Tear Resistance tests. Types include Bench-Top Biohazard Bag, Biohazard Disposal Bag, Biohazard Disposal Bag w/ Warning Label, Biohazard Waste Disposable Bag, Clavies® Transparent Autoclavable Bag, Cleanware™ Self Adhesive Waste Bag and Utility Bag. Maximum autoclavable temperature of 135°C (275°F). Widths range from 4" to 38". Heights range from 6" to 48". Thickness ranges are .72 mil to 4 mil. Available colors are Red, Transparent or White. Package quantities range from 10 to 1000. Dimensions vary.