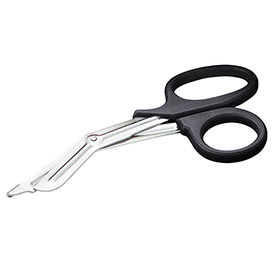 Medical Shears & Scissors
Medical Shears and Scissors are used for Medical and Laboratory applications.
Medical Shears and scissors have razor sharp, super-hardened surgical stainless steel blades with one serrated edge to cut through tough materials. Traditional 7-1/4" length gives you maximum leverage and strength. Shear and scissors styles include
Iris Curver or Straight, Lister Bandage and Bandage w/Clip, Listerette Bandage, Listerette Suture Removal, Mayo Dissecting, Medicut EMT Shears, Mini Medicut Nurse Shears, operating Straight, Titanium Bonded Bandage, Umbilical Cord, and Universal Bandage.
Lengths range from 4" to 7-1/2"
Stainless steel safety bandage tip
Blades are tempered to a Rockwell hardness of C56 for unsurpassed durability
Contoured polypropylene handles with large ring provide maximum control and comfort
Extra large rivet with a rated strength of 88kg assures rugged durability
Fully auto-clavable to 143°C (290°F)
Colors are Black, Stainless, and Mirror Stainless
Inspected and packaged in the U.S.A.
Two Year Quality Performance Guarantee