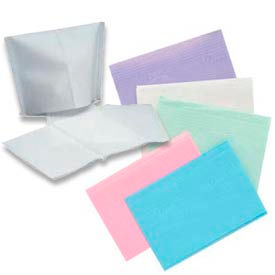 Disposable Exam Room Supplies
Patient Towels, Headrest Covers And Exam Papers Are Designed To Provide Protection In A Variety Of Medical Settings.

Patient Towels, Headrest Covers And Exam Papers help to prevent moisture for increased patient protection. The poly tissue construction provides maximum absorbency and strength. They aid in infection control by guarding against stains and spills. Used for use in physician's offices, clinics, industrial health-care centers, surgery centers, X-ray labs, hospital outpatient areas and emergency rooms. Available styles include Exam Table Paper, Disposable Drape Sheets, Headrest Covers, Patient Towels, Pillowcases, Stretcher Sheet and more. Available colors are Blue, Crepe, Green, Lavender, Pink and White. Available package quantities are 24-500 or 12 rolls/case. Individually poly bagged for cleanliness during shipping and storage. Sizes vary.