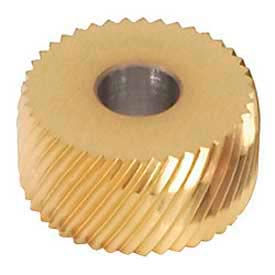 Knurling Tool Accessories
Knurling Tool Accessories Come In A Variety Of Styles To Fit A Wide Array Of Applications.

Knurling Tool Accessories have an HSS, cobalt or cobalt TiN-Coated construction for long lasting durability and strength. Knurls are individually hob cut and lapped to a smooth hard finish to ensure increased longevity. Also designed to impart a smooth, clean surface to the knurled part. Tooth angle is 90° and TPI ranges from 10 to 80. Choose from models with Diagonal Left, Diagonal Right, Female Diamond, Male Diamond and Straight patterns. Available in series 459, A, C, D, M, O, R, S, SW2, SW3.5 and SW4. Diameter, face width and hole size vary per model.