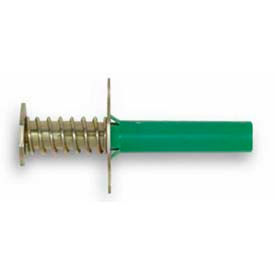 Concrete Inserts - Carbon Steel
Concrete Inserts Are Used For Supporting Newly Poured Concrete Floors, Slabs Or Walls.

Concrete Inserts are solidly made for lasting durability and reliability. Wood-Knocker™: Concrete Inserts are installed onto wooden forms supporting concrete material. When the forms are stripped, the color-coded flange is easily seen embedded in the concrete surface allowing attachment of steel threaded rod or threaded bolts. Bang-It™ Concrete Inserts are designed for installation through pre-drilled metal composite decking material. Available for accommodating 1/4, 3/8, 1/2, 5/8, 3/4, and 7/8 inch threaded rod or bolt sizes.