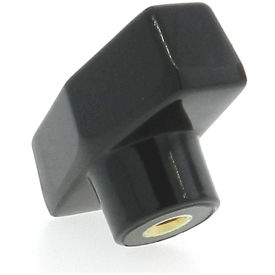 T-Handles and T-Bar Knobs
T-Handles and T-Bar Knobs Provide Superior Grip and Support Pulling Operations in Maintenance and Tooling Components.

T-Handles and T-Bar knobs are designed as either operating handles or for clamping purposes that require additional force. Curved design allows easy gripping and turning functionality. Robust constructed structure provides lasting durability. Select units are available with brass insert. T-Handle and T-Knob style types include Internal Thread, Tapped, Threaded Stud, and more. Materials include Aluminum, Plastic, Nylon Plastic, and more. Thread ranges from 1/4-20" to M12 x 1.75. Dimensions vary per model.