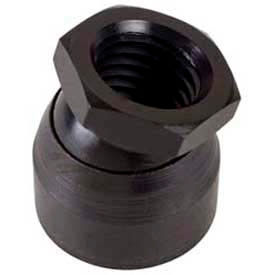 Leveling and Toggle Pads
Leveling And Toggle Pads are used for a variety of Machine and Tooling Applications.
Leveling and toggle pads automatically adjust to uneven and angular surfaces for level work.
Leveling Pads
automatically adjust to uneven surfaces, leveling machine tools, benches and more and provide a large surface area when heavy loads are applied to flexible or soft materials.
Toggle Pads
automatically adjust to angular surfaces. Clamping force is directed squarely against the work and prevents movement of both the work and the clamping screw.
Leveling pads prevent walking for added security
Leveling pads have a heat treated nut
Toggle pads have a heat treated nut and a black oxide finish for long lasting durability and strength
Pad diameters range from 5/8 in. to 4 in.
Materials are plated steel, steel, and steel with heat treated nut
Thread size and stud thread lengths vary per model.