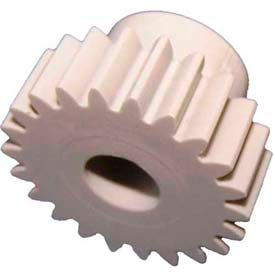 Plastock® Spur Gears
Plastock® Spur Gears Transmit Motion And Power Between Parallel Shafts Which Rotate In Opposite Directions.

Plastock® Spur Gears are made of injection molded acetal for long lasting durability. Designed to transmit motion and power between parallel shafts. Consists of cylinder with teeth projecting radially. Straight edge tooth aligned parallel to axis of rotation. Number of teeth range from 12 to 120. Available in a variety of pitch diameters and pressure angles.