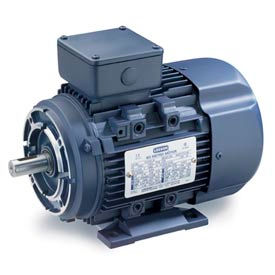 Leeson Metric Motors- B3/B14 Face-Mounted
B3/B14 Face-Mounted Metric Motors 230/460V

Metric-dimensioned, AC motors meeting North American performance standards, including 1.15 service factor and EPACT efficiencies. Motors have both B14 face mounting and B3 base. Typically used for replacement on machine tools, textile machinery and other equipment with metric dimensions but requiring the heavy-duty torque and performance characteristics of motors designed for use in North America. IP55 weatherproof enclosures, 60/50 Hz interchangeability (60Hz 230/460V & 50Hz 200/400V), dual stamped nameplates, CE mark, and F3 conduit box location. Motors are available in one of two frame constructions: aluminum or cast iron.