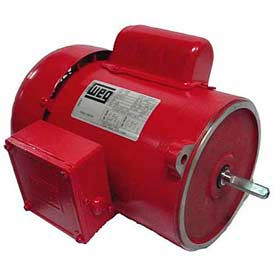 WEG Farm, Poultry Fan and Auger Drive Duty Motors
WEG Farm Duty, Poultry Fan And Auger Drive Motors Are Used For Various Agricultural Applications.

WEG Farm, Poultry Fan And Auger Drive Motors are solidly manufactured for long lasting durability and dependability. Farm Duty Motors are specially designed for farm duty applications requiring high starting torque and moderate starting current. Feature V-ring slinger in both drive and opposite drive ends, reversible shaft rotation and start capacitors for indoor and outdoor use. Poultry Fan Motors are specifically designed for agricultural fan applications. Mounted within the airstream for proper cooling, their totally enclosed design ensures long life in poultry house and barn exhaust fan applications. Auger Drive Motors are designed for Feed-Drive units requiring a reliable and efficient motor. Include centrifugal switch to prevent damage to the motor in case of overspeed, manual thermal overload protection and two bolts mounting NEMA 'N' flange. Wide selection of Single Phase motors are available with 1/3, 1/2, 3/4, 1, 1-1/2, 2, 3, 5 and 10 horsepower and 115/230, 115/208-230 and 230 voltage designations.