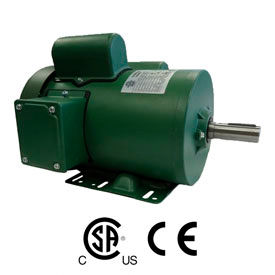 WWE Farm Duty Motors
Worldwide Electric Farm Duty Motors Are Desgined For Tough Applications In The Agriculture Industry.

Worldwide Electric Farm Duty Motors are made with a TEFC enclosure and IP54 degree of protection to provide long lasting durability. High torque, 1.15 service factor, Class F insulation and VPI copper windings provide optimum performance. Motors feature reduced amperage and high torque with manual overload, drive-end shaft seal, drive-end bearing retainer, double-sealed ball bearings, gasketed capacitor covers and junction boxes. Anti-rust film applied to rotor for weather protection. Color coded and labeled motor leads provide organization. Horsepowers range from 0.33 -2. FL Amps range from 5.2 - 19.6/9.8. FL Effeciencies are 63, 64.5, 67, 70, 77 and 79.