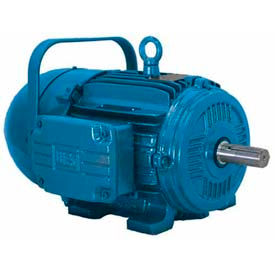 WEG 3-Ph TEFC Brake Motors
WEG Brake Motors, 3 Phase, TEFC Are Used For Conveyors, Gear Reducers, Machine Tools, Material Handling Equipment And Other Applications Requiring Quick Stops And Positive Action At Standstill.

WEG Brake Motors, 3 Phase, TEFC are solidly manufactured for long lasting durability and dependability. Consist of an induction motor coupled to a disc brake, forming an integrated compact and robust unit. Totally Enclosed Fan Cooled (TEFC) enclosures with no vent openings are suitable for exposure to dampness or dirt. Constructed with few moving parts to ensure long life with minimum maintenance. Foot mounts. Wide selection of 3 Phase brake motors are available with 1, 1-1/2, 2, 3, 5, 7-1/2, 10, 15, 20, 25 and 30 horsepower, 900, 1200, 1800 and 3600 RPMs and 230/460 and 575 voltage designations.