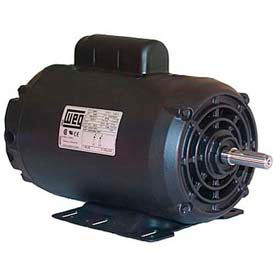 WEG Compressor Duty, ODP Motors
WEG Compressor Duty Motors, ODP Are Used For Use With Stationary And Portable Air Compressors And A Wide Selection Of Intermediate Duty Compressors.

WEG Compressor Duty Motors, ODP are solidly manufactured for long lasting durability and dependability. Designed to meet the high torque requirements of air compressor loads. Heavy duty rolled steel construction. NEMA 56 frames. Ball bearing design and manual reset thermal protection. Special electrical and mechanical features ensure reliable service and long motor life. Open Drip Proof (ODP) enclosure allows for adequate air flow in environments with minimal dirt and moisture. Wide selection of 3 Phase compression duty motors are available with 1/2, 3/4, 1, 1-1/2, 2, 3, 4, 5, 6.4, 7-1/2, 10, 15 and 20 horsepower, 1800 and 3600 RPMs and various voltage designations.