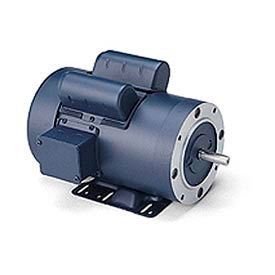 Marathon Pressure Washer Pump Motors, 1-Phase
Pressure Washer Motors, Single Phase, TEFC Are Used For Hot Or Cold Pressure Washer Applications And Other Single Phase Installations Requiring Minimum Starting And Running Amperages.

Pressure Washer Motors, Single Phase, TEFC are solidly manufactured for long lasting durability and dependability. Rigid mounting, continuous duty motors with Totally Enclosed Fan Cooled (TEFC) enclosures with no vent openings suitable for exposure to dampness or dirt. Designed for hot or cold pressure washer applications or other minimum amperage installations. Some include capacitor start, capacitor run construction for reduced amperage. Wide selection of Leeson® and Marathon® brand Single Phase units with 1725, 1740, 1800, 3450 and 3600 RPMs are available with 1, 1-1/2, 2, 3 and 5 horsepower for various rigid frame and voltage designations.