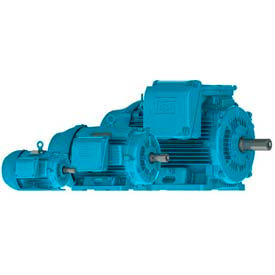 WEG 3-Ph Crusher Duty®
WEG Crusher Duty Motors, 3 Phase, TEFC Are Used For Industrial Rock Crushing Applications.

WEG Crusher Duty Motors, 3 Phase, TEFC are solidly manufactured for long lasting durability and dependability. Specifically designed to meet the demanding requirements of the rock crushing industry. FC-200 grade cast iron construction provides superior strength and heat dissipation. 4140 high-strength steel shafts. Designed for vertical or horizontal mounting and have exceptional high starting and breakdown torque. Totally Enclosed Fan Cooled (TEFC) enclosures with no vent openings are suitable for exposure to dampness or dirt. Foot mounts. Wide selection of 3 Phase crusher duty motors are available with 50, 60, 75, 100, 125, 150, 200, 250, 300, 350, 400, 450 and 500 horsepower, 900, 1200 and 1800 RPMs and 230/460, 208-230/460, 460 and 575 voltage designations.