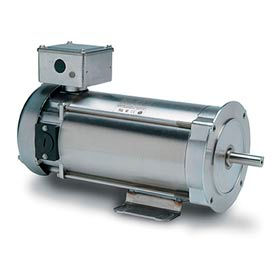 Leeson DC Motors, Washdown, SS
Leeson Washdown DC Motors Are Used For The Pharmaceutical, Food Processing And Beverage Industries And Other Clean Room And Severe Chemical Processing Applications Involving Frequent Washdowns.

Leeson Washdown DC Motors are made of 300-series stainless steel exterior components for long lasting durability and dependability. Nothing on the exterior of the motor is painted or coated in any way. All sealing components are Viton® for superior chemical resistance. Full fact nameplate is laser etched on the motor frame no separately attached nameplate to trap dirt or contaminants. Endshields are O-ring sealed to the frame. Double lip shaft seals on both ends. Removable hydrophobic breathers in opposite shaft endbell and conduit box equalize pressure without allowing moisture to enter. Exterior fastener use minimized reducing the number of entry points for moisture. There are no holes in the frame for attaching a nameplate. Bearing lock screws are located inside the motor and the conduit box mounted screws have been eliminated. Double-sealed bearings are pre-lubricated with moisture-resistant high-temperature grease for long life. Interior coatings applied to armature and frame/magnet assemble protect against corrosion. Conduit box mounting system provides optimum sealing. Linear speed/torque characteristics over entire speed range. Armature windings are immersed and cured in a polyester insulating varnish for extra moisture-resistance. High starting torque for hard to start loads. UL listed. CSA Certified. BISSC Certified for bakery applications. 1750 RPM. 90V and 180V. Frames are 80D, NS56C, US56C, XS56C and ZS56C. Various horsepower from 1/4 to 1.