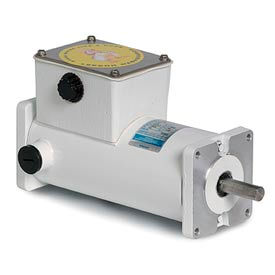 Leeson DC Motors, Sub-FHP, IP55, Washguard
Leeson Washdown DC Motors Are Used For Fractional Horsepower Applications In Wet Environments.

Leeson Washdown DC Motors are solidly made for long lasting durability and dependability. Designed for use with fullwave non-filtered SCR controls or battery supplied low voltage for adjustable speed applications requiring constant torque throughout the speed range. Shafts are coated with Mirolon 3300 fortified Teflon for corrosion resistance. Frames, endshields, armature and interior components are protected to resist corrosion. Cast Conduit Box with threaded conduit holes. Stainless Steel hardware throughout. Output shafts have needle bearings for high load capacities. Available in 1/8, 1/6 and 1/4 horsepower and 12 and 90 voltage.